Do you like to prep your lunch meals for the week? Then these Burrito Bowl Mason Jars are a perfect "grab and go" lunch for you! Providing a whopping 14 grams (of the recommended 25 grams or more per day) of dietary fiber to help your body stay satisfied for hours.  The colorful mix of plant based ingredients provides a wide array of antioxidants for an inflammatory fighting dish. You'll love this Avocado Dressing SO much that you'll want to make it again to keep on hand for your side salads.
Make sure to put the dressing on the bottom of the jar and layer the ingredients according to the recipe to keep the salad at it's peak freshness when the lunch hour rolls around.  Don't have any Mason Jars? Don't worry! Another container will work just fine, simply put the Avocado Dressing in a separate container. Bon Appetit!
Burrito Bowl Mason Jars
Do you like to prep your lunch meals for the week? Then these Burrito Bowl Mason Jars are a perfect "grab and go" lunch for you!
Author: Delish Knowledge, Chef for EatLove
Yield: 4 servings
Category: Dinner
Cuisine: Mexican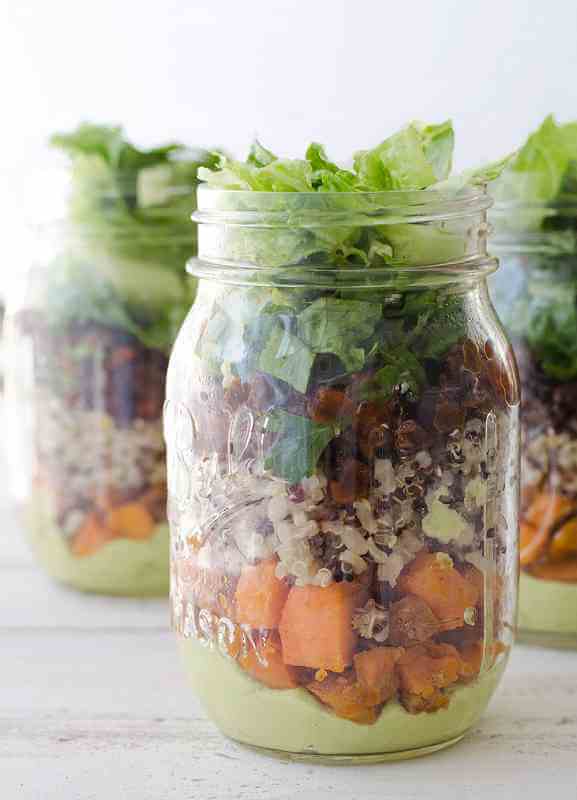 Avocado Dressing
1 clove garlic
1 avocado, pitted
2 tablespoons lime, juiced
1 tablespoon water
2 tablespoons olive oil
1⁄4 teaspoon salt
Black Bean Filling
1 teaspoon olive oil
1⁄2 cup white onion, diced
2 cloves garlic, minced
1 teaspoon chili powder
1 teaspoon oregano
1⁄4 teaspoon cayenne pepper
1 dash salt
1 cup tomatoes, chopped
1 1⁄2 cups black beans, drained & rinsed
Salad
1 tablespoon olive oil
2 sweet potatoes, diced
1⁄4 cup salsa
1 cup cooked quinoa
1⁄4 cup pepitas
4 cups romaine, chopped
Prep Salad Jar Ingredients
Place the ingredients for the dressing in a blender and puree until creamy and smooth. Divide the dressing among 4 mason jars.
Heat the olive oil in a large skillet over medium heat. Add the onion and garlic cloves then cook for 5-6 minutes until translucent and soft. Stir in the chili powder, oregano, cayenne pepper, salt and fresh tomatoes. Cook for another 5 minutes until soft. Stir in the black beans and set aside until cool.
Heat 1 tablespoon of oil a large skillet over medium heat. Add the potato cubes, then cook until seared on every side, about 4-5 minutes. When the potatoes are browned, reduce the heat to medium-low then cover with a lid and cook until tender, about 10-15 minutes. Set aside to cool to room temperature.
Assemble Salad Jar
Layer the various filling ingredients into the mason jars in this order on top of the avocado dressing: black bean mixture, sweet potatoes, 1 tablespoon salsa, ¼ cup quinoa, 1 tablespoon pepitas, and chopped romaine lettuce. Tighten the lid and place in the fridge. They will keep in the fridge for at 3-4 days.
Notes
Serving Size: 1 serving
Calories: 429
Sodium: 510 mg
Fat: 22 g
Saturated Fat: 3 g
Carbohydrates: 48 g
Fiber: 14 g
Protein: 14 g
Keywords: vegan dinner, vegan entree, burrito bowl, meal prep
Did you make this recipe?
Tag @nutritiondynamixrd on Instagram
For other delicious, healthful recipes, check out some of my favorites:
Warm Chickpea and Bulgur Salad
Like this recipe? Pin it for later!