With just three ingredients, making your own chips couldn't be easier! Try this Purple Sweet Potato Chip recipe in moderation to satisfy your chip fix. 
Purple Sweet Potato Chips
Make thin, crispy, sweet potato chips at home with just three ingredients! Although this recipe calls for a special tool called a Mandolin to cut the potatoes extra thin, you can also use a sharp knife, vegetable peeler, cheese slicer/grater, or the slicing setting on a food processor.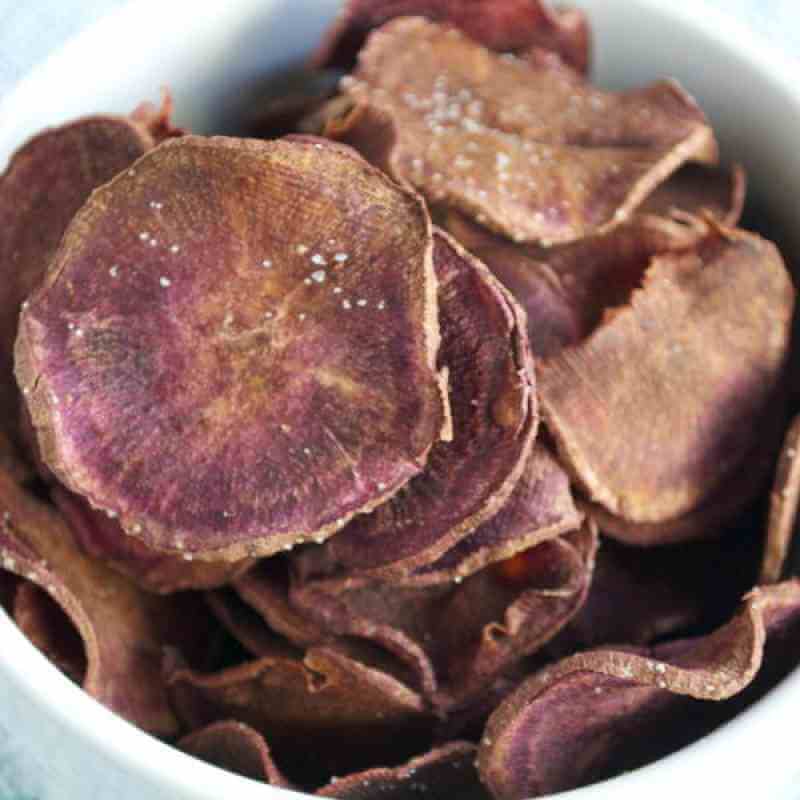 2 purple potatoes sliced
2 Tablespoons coconut oil melted
1/2 teaspoon salt
1. Preheat oven to 250 degrees F. Line two baking sheets with parchment paper and set aside.
2. Slice potatoes with a mandolin. You will want to have your potatoes cut as evenly and as thinly as possible. In a bowl, mix together the coconut oil and the sliced potatoes. You want to lightly coat the potatoes. Place the potato slices in a single layer on the baking sheet. Sprinkle with salt. 
3. Bake for 35-45 minutes, flipping the potatoes once or twice throughout baking. 
4. Make sure to keep an eye on the potatoes and remove any potatoes that are crisp. 
5. Bake until the edges of the potatoes are just barely crisp. Let cool for 5-10 minutes. 
Notes
Source: EatLove, A Dash of Megnut
Prep Time: 10 minutes    Cook Time: 55 minutes  Yields: 3 Servings
Nutrition Facts Per Serving
Calories: 124
Carbohydrates: 15 g
Protein: 1.72 g
Total Fat: 6.9 g
Saturated Fat: 5.9 g
Fiber: 1.87 g