This easy plant based recipe for Tempeh Taco Lettuce Wraps is a great way to boost your daily fiber! Choose low sodium diced tomatoes and my homemade salt free taco seasoning to reduce the sodium in this recipe. 
Homemade Salt Free Taco Seasoning: Makes approximately 1 cup. Mix all ingredients and store in an airtight container to use in recipes that call for Taco Seasoning. Salt can be added to your finished product to taste.
1/2 cup chili powder
1/4 cup cumin
1 Tbsp each of paprika, black pepper
2 tsp each of red pepper flakes, oregano, garlic powder, onion powder
1/2 tsp cayenne pepper  

Tempeh Taco Lettuce Wraps
Author: Alex Caspero, RDN, Chef for EatLove
Yield: 8 servings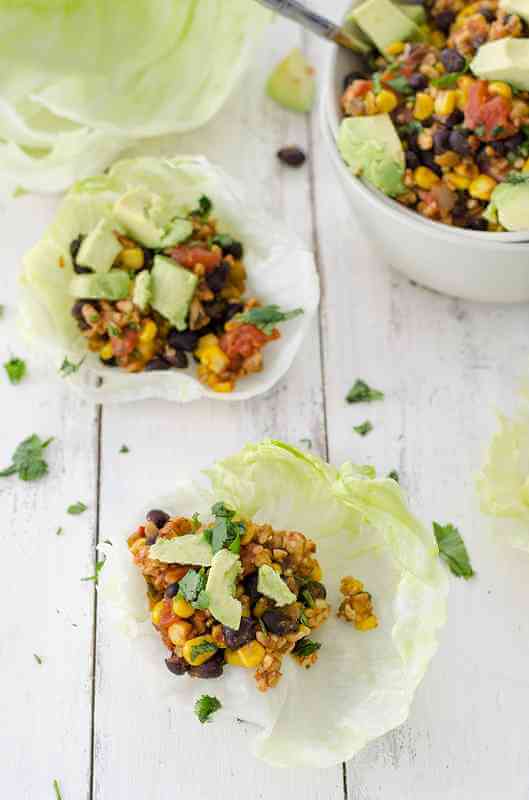 4 cups cooked brown rice
3 cups black beans, drained & rinsed
2 cups pinto beans, drained & rinsed
1 15-oz can canned corn
2 cans diced tomatoes
4 jalapenos diced
3/8 cup taco seasoning
2 pounds tempeh
2 heads butter lettuce
2 avocados, cubed
Bring a pot of water fitted with a steamer basket to a boil. Add the tempeh to the basket, cover and steam for 15 minutes. While this step is optional, it will help reduce any bitterness in the tempeh.
Remove the tempeh and finely chop.
Heat the oil in a large saute pan over medium heat.
Add the tempeh and saute for 2-3 minutes until golden brown.
Add in the tomatoes, chilis, beans, corn and taco seasoning. Stir to combine and cook for another 3-4 minutes until combined and heated through.
Place the filling in a bowl and serve with butter lettuce leaves, diced avocado and preferred toppings!
Notes
Serving Size: 1 serving
Calories: 587
Sodium: 610 mg
Fat: 20 g
Saturated Fat: 4 g
Carbohydrates: 75 g
Fiber: 15 g
Protein: 35 g


Did you make this recipe?
Tag @nutritiondynamixrd on Instagram
For other healthful recipes, check out some of my favorites:
Spicy Baked Tofu & Veggies with Quinoa