Get into the fall spirit with this spiced pumpkin soup! All our favorite flavors of fall like pumpkin, nutmeg, cinnamon, and allspice can be found in this dish. As a bonus, this recipe includes spiced pumpkin seeds as a topping for the soup that could also be made and eaten on their own.
Pumpkin Spiced Soup
Author: Maria Ushakova through EatLove              Yield: 6 Servings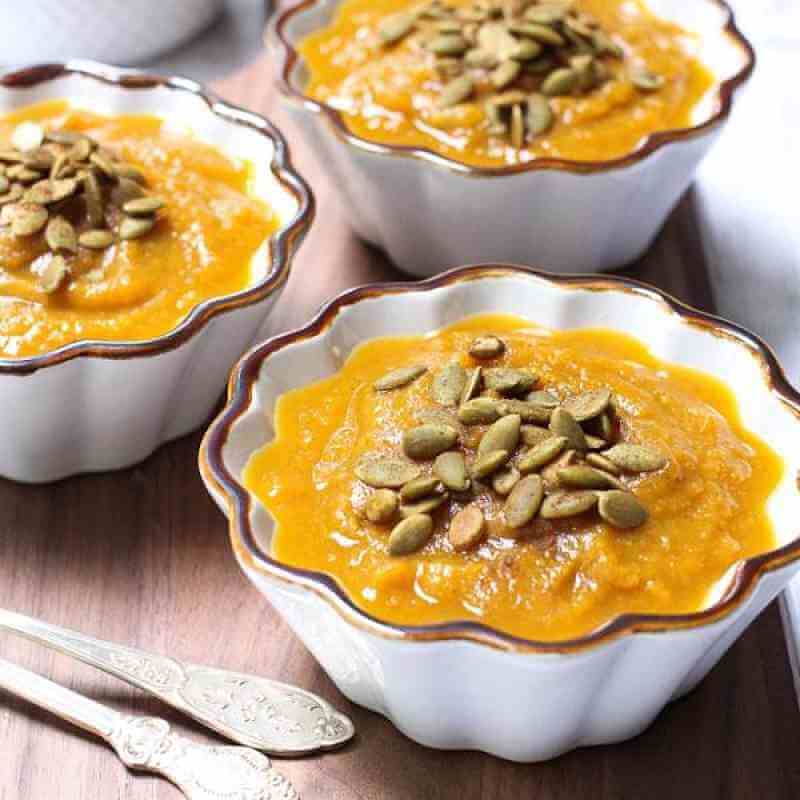 3 1⁄4 cups pumpkin puree
6 cups water
2 apples chopped
12 dried apricots
1 teaspoon ground cinnamon
1⁄2 teaspoon ground allspice
1⁄8 teaspoon ground nutmeg
2 tablespoons maple syrup

For the Spiced Pumpkin Seeds:
1 cup raw pumpkin seeds
1⁄2 teaspoon ground cinnamon
1⁄4 teaspoon ground allspice
1. In a pot, combine the pumpkin puree with water.
2. Add the apples and apricots and bring to a boil.
3. Reduce heat.
4. Cover and simmer for about 8 to 10 minutes until the apples and apricots are soft.
5. Turn off the heat and let it cool.
6. Once cool enough to handle, puree the mixture using a blender or food processor.
7. Return to the pot.
8. Add the cinnamon, allspice, nutmeg and maple syrup.
9. Bring to a simmer and turn off the heat.
10. Place the pumpkin seeds on a pan and heat them over medium heat.
11. Make sure to stir constantly.
12. Add the ground cinnamon and allspice.
13. Toast the seeds until they start changing color.
14. You might need to transfer the seeds to a plate right away because they will continue toasting on a hot pan even after you take it off the burner.
Notes
Nutrition Facts Per Serving:
Calories 235kcal
Carbs 30g
Protein 8.4g
Total Fat 11g
Saturated Fat 2.08g
Sodium 18mg
Fiber 6.1g
Added Sugar 4.03g




Did you try this recipe? Tag us @nutritiondynamixrd on Instagram.