Breakfast often gets overlooked. It's easy to repeat the same meal over and over each day. Shake up your routine with these Carrot Cake Overnight Oats! This recipe makes 3 servings which allows you an easy "grab and go" breakfast for several days. The recipe is easy to adapt. Switch the almond milk for your favorite milk or milk alternative. The fruit and nuts can also be swapped for your favorites in the same portion sizes. Don't settle for a boring breakfast ever again!

Carrot Cake Overnight Oats
Shake up your routine with these Carrot Cake Overnight Oats!
Author: EatLove
Yield: 3 servings 
Category: Breakfast
Cuisine: Vegan, Gluten-Free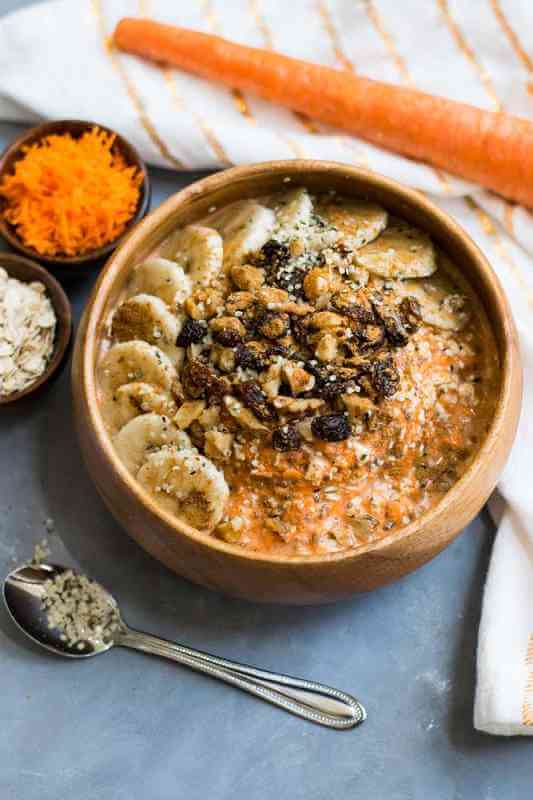 Overnight Oats
1 cup oats
1 1⁄2 cups almond milk
1 1⁄2 tablespoons chia seeds
3 tablespoons hemp seeds
1 1⁄2 tablespoons maple syrup
3⁄4 teaspoon cinnamon
1 1⁄2 cups carrot, grated
Toppings
1 1⁄2 bananas, sliced
1 1⁄2 tablespoons raisins
3 tablespoons walnuts
Combine all overnight oat ingredients in a small bowl. Cover and store in refrigerator for at least 4 hours or overnight.
Layer with sliced bananas, raisins and walnuts. Sprinkle with extra cinnamon and hemp seeds if desired.
Notes
Serving Size: 1 serving
Calories: 345
Sodium: 135 mg
Fat: 14 g
Saturated Fat: 1 g
Carbohydrates: 48 g
Fiber: 9 g
Protein: 12 g
Keywords: vegan oatmeal, overnight oats, overnight oats recipe, healthy overnight oats
Did you make this recipe?
Tag @nutritiondynamixrd on Instagram
For other delicious, healthful breakfast ideas, check out:
Like this recipe? Pin it for later!