The spice Turmeric has been used for thousands of years to flavor, color, and preserve foods. It also has a long history of medicinal use for the treatment of inflammatory conditions. Turmeric contains naturally occurring phytochemicals called Curcuminoids. Curcumin is the principal Curcuminoid that gives Turmeric it's brilliant yellow color and provides the most promising heath benefits. It is commonly used in Indian curry dishes and in prepared mustard.
Seventy years of research on Curcumin have shown promising results with studies showing benefits for prevention of heart disease, Alzheimer's, certain cancers, and for treatment of depression, arthritis, and other chronic inflammatory conditions. Although Curcumin can be taken in supplement form, incorporating Turmeric spice into your diet in it's natural form, helps to improve absorption.
How can you boost the absorption of Curcumin by up to 2000%?   Consume Turmeric with Black Pepper! The natural substance in black pepper, Piperine, helps the powerful phytochemical be easily absorbed from your digestive tract into your bloodstream. It is also important to pair Turmeric with a fat source to further enhance absorption.
Suggested dosage of Turmeric is 1-3 grams of dried root or approximately 1/2-1 tsp per day. This is equivalent to approximately 1/2-1 Tbsp freshly grated root. It is best to spread out your intake throughout the day for best results. 
Caution should be taken if you are on a blood thinning medication or a drug used to reduce your stomach acid. People on blood sugar lowering medications for Diabetes should also be advised that Turmeric can make these drugs stronger, resulting in hypoglycemia. 
I developed this recipe for Turmeric Golden Milk Latte after adjusting the ingredients for the perfect taste and most beneficial nutrition. I like to double the recipe and refrigerate the extra to be heated again later. I hope you like it!  
This recipe is LEAP Diet friendly meaning that all ingredients used are Mediator Release Tested (MRT). The "gold standard" for ensuring that your diet is low in inflammatory foods specific to YOUR body is MRT followed by a LEAP Diet protocol.  This recipe can be easily adjusted to accommodate food sensitivities. Please contact Nutrition Dynamix if we can help YOU to improve your health and nutrition with anti-inflammatory eating!
Cheers to good heath and lower inflammation!

Turmeric Golden Milk Latte
A nutritious and antioxidant rich "tea".
Author: Melissa Karch, RDN
Prep Time: 5 minutes Cook Time: 30 minutes Total Time: 35 minutes
Yield: 2 servings
Category: Beverages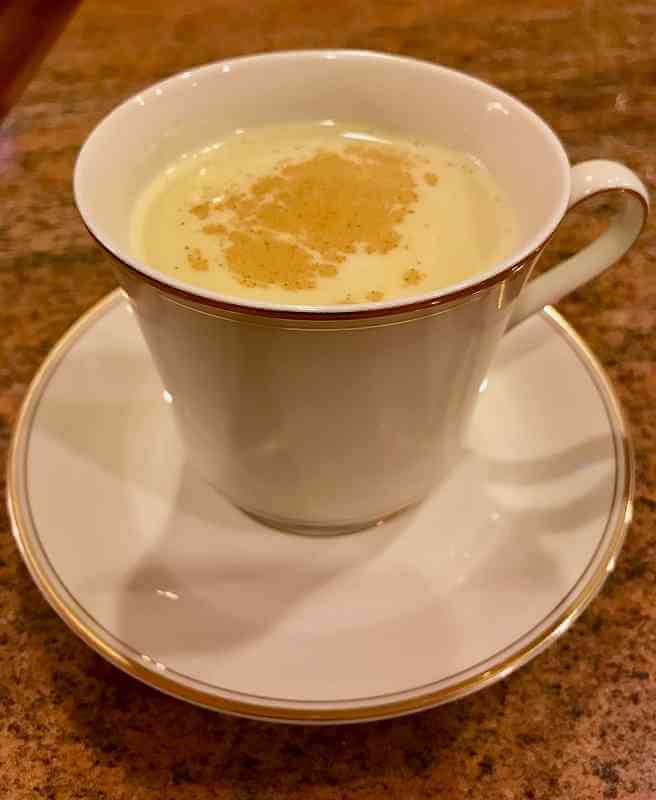 For the "tea" concentrate
1 1/4 cup water
3 inch fresh turmeric root (or 1 1/2 tsp dried, or 1 1/2 Tbsp fresh grated)
1 1/2 inch ginger root (or 1/2 tsp dried or 2 Tbsp fresh grated)
10 peppercorns
1 cinnamon stick (or 1/2 tsp ground)
1 T honey or maple syrup
1 cup milk of choice (coconut, almond, dairy)
1. Finely chop fresh turmeric and ginger root.
2. Add turmeric, ginger, peppercorns, cinnamon, and honey to 1 1/4 cup of water in a saucepan and bring to a boil.
3. Turn heat down to medium-low and simmer for 30 minutes.
4. Pour contents through a fine sieve or coffee filter to remove sediment.
5. Combine "tea" with 1 cup of desired milk.
6. Stir to combine.
Notes
This recipe is LEAP friendly and can be easily adjusted for a specific dietary restrictions. Honey can be substituted for maple syrup, agave, or cane sugar. Vanilla would also make a tasty addition or substitution for cinnamon or ginger.
For a Low FODMAP latte, use maple syrup or cane sugar as a sweetener and Lactose Free Milk.