This 6 ingredient Honey Beef Stir-Fry will make a fast and easy homemade meal. You can easily swap out the broccoli for your favorite veggie mix!

Honey Beef Stir Fry
Author: Everyday EatLove
Yield: 4 servings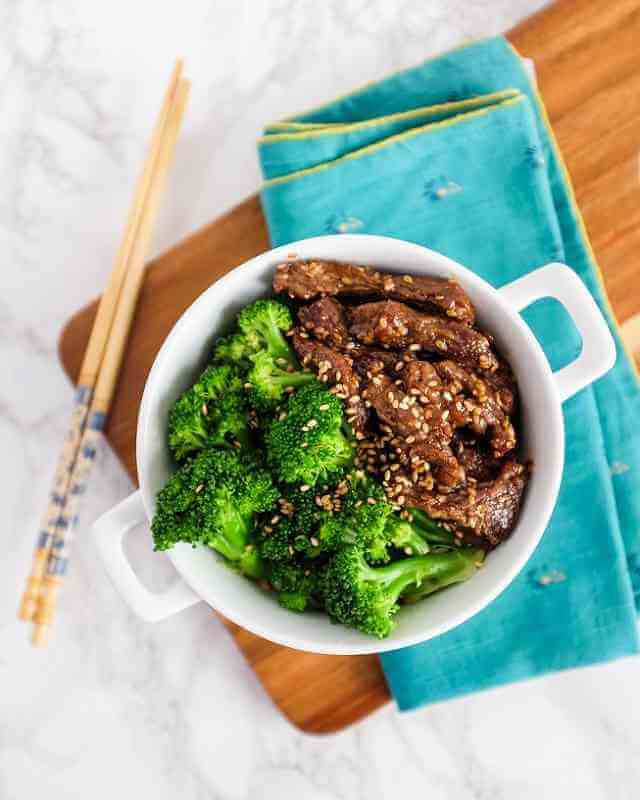 Honey Beef
1 pound beef sirloin
1⁄4 cup low sodium vegetable broth
1⁄4 cup sesame seeds, roasted
1⁄4 cup honey
Serve with:
6 cups broccoli, steamed
3 cups cooked brown rice
Cook brown rice according to package instructions, or see link for instructions.
Steam broccoli over boiling water for 4-5 minutes.
Cut beef sirloin into strips.
Add beef and broth to a large skillet and bring to boil over medium heat. Reduce the heat to low and cook until the beef has nearly cooked through.
Add the honey and sesame seeds; stir well. Cook for 5-7 minutes, until all liquids have been absorbed.
Serve with steamed broccoli and brown rice.
Notes
Serving Size: 1 serving
Calories: 404
Sodium: 106 mg
Fat: 10 g
Saturated Fat: 2 g
Carbohydrates: 54 g
Fiber: 6 g
Protein: 28 g
Did you make this recipe?
Tag @nutritiondynamixrd on Instagram
For other healthful recipes, check out some of my favorites:
Spicy Baked Tofu & Veggies with Quinoa
Tempeh Tofu Taco Lettuce Wraps
Hearty Butternut Squash Barley Soup
Like this recipe? Pin it for later!