Mediterranean Pasta is a quick an easy recipe featured on my meal planning program, EatLove, and written by fellow Dietitian and Chef Ranelle Kirchner.  This recipe is packed with fiber and healthy fat and is a Low FODMAP recipe for those working through digestive issues such as gas and bloating.
This recipe for Mediterranean Pasta is also very versatile. A variety of pastas could be used such as Gluten Free rice or quinoa/corn to keep it a Low FODMAP recipe. Other options include a whole wheat or bean based noodle. If you don't care for eggplant and zucchini, change the vegetable choice to broccoli, carrots, or bell peppers. The homemade sauce gives it an authentic flavor!

Mediterranean Pasta (Vegetarian, Low FODMAP, Gluten Free)
Gluten Free, Low FODMAP packed full of fiber and flavor!
Author: Ranelle Kirchner, RDN, Chef for EatLove
Prep Time: 15
Cook Time: 35
Total Time: 50 minutes
Yield: 4 servings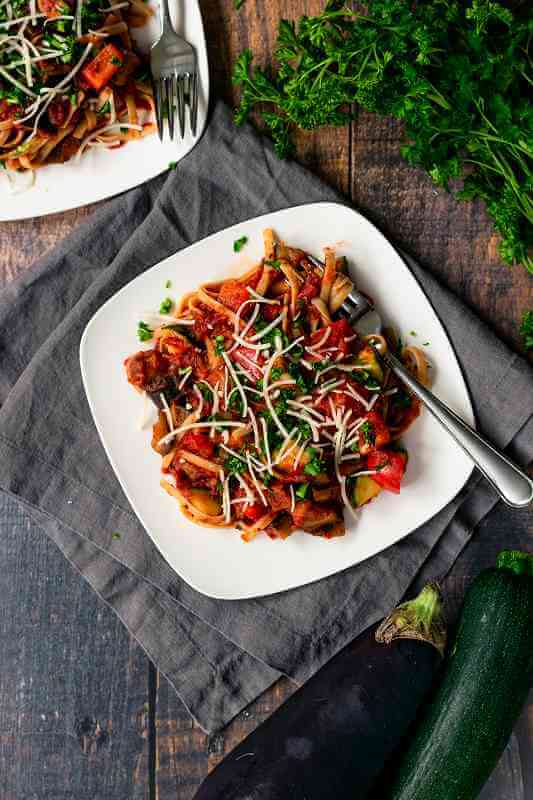 Pasta
12 ounces gluten-free pasta
6 teaspoons olive oil
2 cups zucchini cubed
1 red bell pepper cubed
2 cups eggplant cubed
2 ounces parmesan cheese shaved
1⁄2 cup parsley chopped
4 dashes salt
4 dashes pepper
Tomato Sauce
6 teaspoons garlic-infused oil
1 pound crushed tomatoes
2 teaspoons dried oregano
1 teaspoon dried basil
4 dashes salt
4 dashes pepper
Prepare the tomato sauce by combining garlic-infused oil, crushed tomatoes, oregano, basil, and salt and pepper. Heat over medium-high heat and cook for about 20-30 minutes. Stir often to prevent scorching or sticking. Remove from heat and adjust seasonings as desired.
In a pot of boiling water, cook pasta according to packaged instructions.
Meanwhile, heat a large saute pan on medium heat with the oil. Add zucchini, bell pepper, and eggplant. Cook until soft, about 5 minutes. Then add the tomato sauce and cook until heated. Adjust seasonings with salt and pepper.
Toss pasta with vegetable sauce and serve with shaved parmesan and parsley.
Notes
Salt can be reduced to accommodate a low salt diet. 
Serving Size: 1 serving
Calories: 552
Fat: 20 g
Carbohydrates: 84 g
Fiber: 15 g
Protein: 15 g
Did you make this recipe?
Tag @nutritiondynamixrd on Instagram
For other healthy vegetarian recipes, check out:
Warm Chickpea and Bulgur Salad
Spicy Baked Tofu & Veggies with Quinoa
Like this recipe? Pin it for later!