Are you looking for a sweet treat, but with some added nutritional punch? These No Bake PB Protein Bites may be your answer! Two servings (2 balls) makes for the perfect mid afternoon snack to get you through the day. A balance of healthy fat, protein, and just enough sugar to power you through until dinner. Enjoy!

No Bake Peanut Butter Protein Bites
Author: Eating Bird Food, Chef for EatLove
Yield: 18 servings 
Category: Snack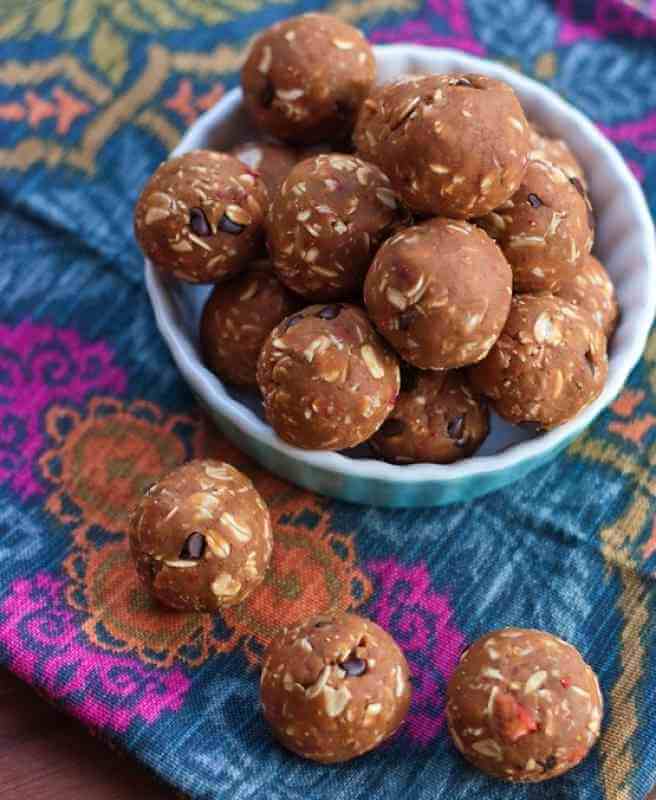 1 cup old fashioned oats
2 scoops organic vanilla protein powder
1⁄2 cup creamy peanut butter (heaping)
1⁄4 cup unsweetened apple sauce
1 tablespoon unsweetened apple sauce, more, if needed
1⁄2 cup organic freeze dried strawberries
2 tablespoons honey or maple syrup
2 tablespoons mini chocolate or carob chips
Place oats, protein powder, freeze dried strawberries and chocolate chips into a small bowl and stir to combine.
In a separate bowl mix together the peanut butter, applesauce and honey. Pour the wet peanut butter mixture over the dry mixture and stir well. Combining this mixture will take a little stirring power and it may seem a little crumbly at first. You can use your hands to knead the dough near the end. If it's too crumbly, you can add an extra tablespoon applesauce to moisten it.
Once combined, start forming the the dough into one inch balls.
Store in a covered container in the fridge or freezer.
Notes
Serving Size: 1 serving
Calories: 93
Sodium: 36 mg
Fat: 4 g
Carbohydrates: 10 g
Fiber: 1 g
Protein: 5 g
Keywords: no bake, peanut butter balls, power bites, energy bites
Did you make this recipe?
Tag @nutritiondynamixrd on Instagram
For other healthy recipes, check out:
Warm Chickpea and Bulgur Salad
Spicy Baked Tofu & Veggies with Quinoa
Hearty Butternut Squash Barley Soup
Like this recipe? Pin it for later!