This Spicy Tofu Scramble is your answer to a quick, no fuss meal! This high protein filling can be served inside a warm tortilla as this recipe suggests, but the leftovers also make a great protein source on top of your salad greens. The nutritional yeast provides a vegan source of Vitamin B12 which can be low in many plant based diets. The kale can easily be swapped out for spinach or collard greens. Bon Appetit!

Spicy Tofu Scramble
Author: Brittyn Howard, Chef for EatLove
Yield: 4 servings 
Category: Dinner
Cuisine: American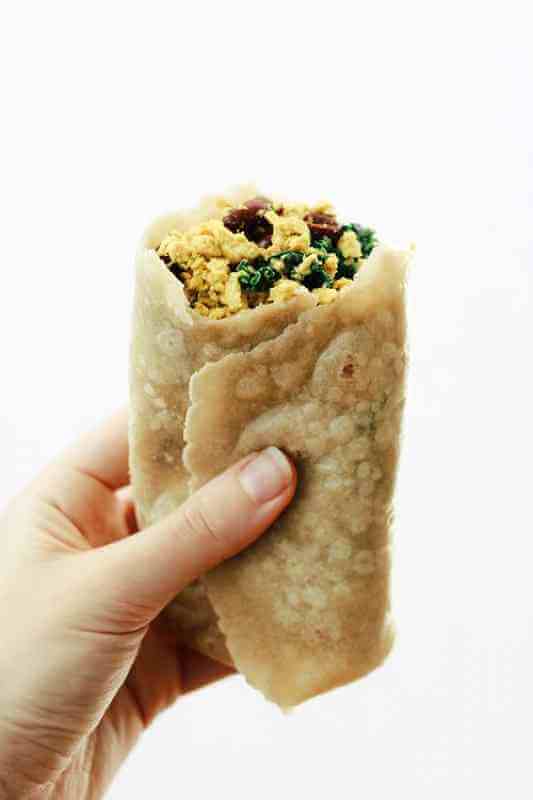 1 1⁄2 pounds extra firm tofu pressed, crumbled
4 cups kale
1 1⁄2 cups kidney beans
4 teaspoons turmeric
2 teaspoons low sodium soy sauce
2 tablespoons nutritional yeast
4 cloves garlic minced
1⁄2 teaspoon cayenne
2 dashes salt
2 dashes pepper
8 corn tortillas
In a skillet, sauté kale with garlic until thoroughly cooked.
Add mashed tofu, beans, garlic, soy sauce, and turmeric. Stir to combine.
Cook for 5-8 minutes and stir occasionally to heat all the way through. Add cayenne to taste.
Remove from heat and stir in nutritional yeast, salt and pepper.
Serve warm in a tortilla.
Notes
Serving Size: 1 serving
Calories: 377
Sodium: 350 mg
Fat: 12 g
Carbohydrates: 45 g
Fiber: 9 g
Protein: 27 g
Keywords: vegetarian scramble, tofu scramble, tofu
Did you make this recipe?
Tag @nutritiondynamixrd on Instagram
For other healthy vegetarian recipes, check out:
Warm Chickpea and Bulgur Salad
Spicy Baked Tofu & Veggies with Quinoa
Like this recipe? Pin it for later!