Spring has sprung! At least in most areas of the country. I grew up in Northern Minnesota, so I know there are still piles of snow there! Nevertheless, strawberries are making an appearance in most produce sections and farmers markets. Take advantage of their natural sweetness by adding them to this Strawberry Overnight Oats recipe.
Strawberries are a good source of Vitamin C, important for keeping your immune system strong. They are also rich in Potassium which helps regulate many important bodily functions including blood pressure. This quick and easy breakfast will keep you powered all the way through lunch! Bring on Spring!

Strawberry Overnight Oats
Take advantage of the natural sweetness of strawberries by adding them to this Strawberry Overnight Oats recipe. It's perfect for busy mornings!
Author: EatLove
Yield: 3 servings 
Category: Breakfast
Diet: Gluten Free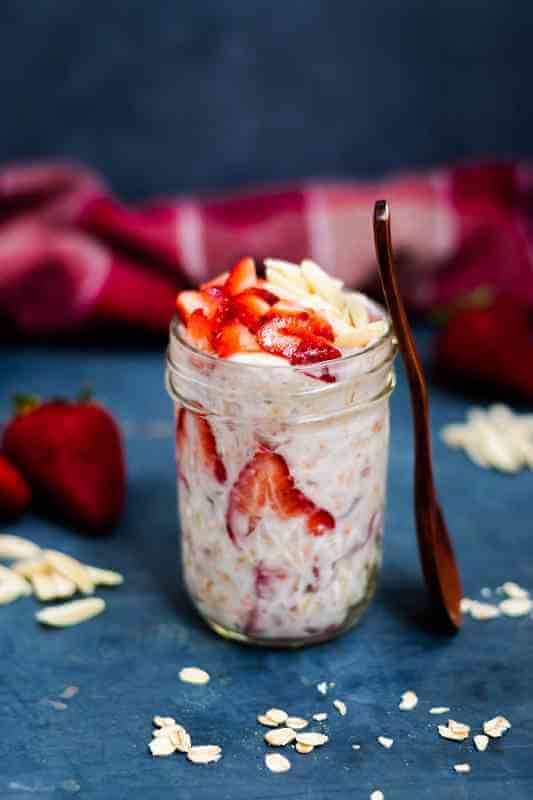 1 2/3 cups low-fat Greek yogurt
1 cup rolled oats uncooked
3⁄4 cup sliced almonds
1 cup strawberries
3 teaspoons vanilla extract
In a small bowl, combine ingredients. 
Add the ingredients to a sterilized mason jar. 
Cover and store in the refrigerator overnight.
Notes
Serving Size: 1 serving
Calories: 428
Fat: 18 g
Saturated Fat: 4 g
Carbohydrates: 42 g
Fiber: 7 g
Protein: 26 g
Keywords: overnight oats, easy overnight oats, strawberry overnight oats


Did you make this recipe?
Tag @nutritiondynamixrd on Instagram
For other breakfast recipes, check out:
Like this recipe? Pin it for later!