This White Bean Chicken Chili recipe is perfect warm meal on a cold winter day! Anaheim chili peppers provide depth of flavor without too much heat. Would you like to try a vegetarian version? Simply delete the chicken, double the beans and use vegetable broth. Bon appetit!

White Bean Chicken Chili
Author: A Dish of Daily Life, chef for EatLove
Yield: 4 servings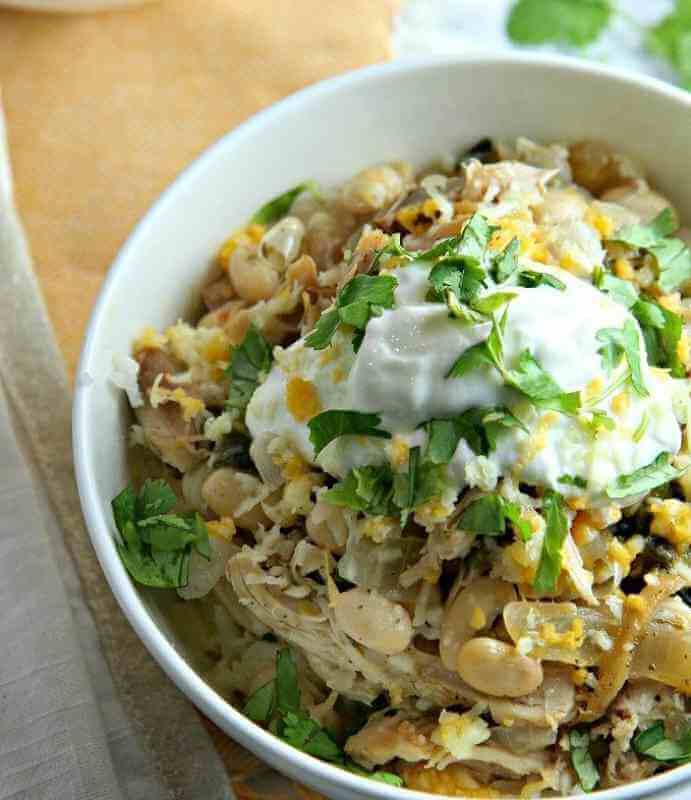 1⁄2 white onion, chopped
2 cloves garlic, crushed
1 1⁄2 tablespoons olive oil
1⁄2 teaspoon dried oregano
1⁄2 teaspoon cumin
1⁄4 teaspoon chili powder
4 cups chicken broth
2 cups cooked chicken, shredded
1 1⁄2 cups white beans
2 anaheim chiles roasted, peeled, chopped
2 cups cooked brown rice
1 handful cilantro, chopped
1 dash salt to taste
1 dash pepper to taste
1⁄4 cup shredded cheese (optional)
1⁄4 cup sour cream (optional)
Roast the two chiles in the oven at high heat until blackened. Peel blackened skin and chop, remove seeds.
Sauté onion and crushed garlic in olive oil until onion is translucent. Add oregano, cumin and chili powder; sauté for another minute or so.
Add chicken broth, shredded chicken, white beans, and chopped Anaheim chiles. Bring to boil, lower heat, and simmer for about 25-30 minutes.
Serve over rice.
Top with shredded cheddar cheese, cilantro, and sour cream.
Notes
Serving Size: 1 serving
Calories: 488
Sodium: 499 mg
Fat: 19 g
Saturated Fat: 6 g
Carbohydrates: 47 g
Fiber: 6 g
Protein: 36 g
Keywords: chicken chili, white bean chili, chili recipe, healthy chili recipe
Did you make this recipe?
Tag @nutritiondynamixrd on Instagram
For other healthful recipes, check out some of my favorites:
Spicy Baked Tofu & Veggies with Quinoa
Warm Chickpea and Bulgur Salad
Like this recipe? Pin it for later!