For those with food sensitivities, following a restricted diet can come with frustration. What do I cook? How do I substitute ingredients and still make sure my recipe will still turn out?  How do I still add flavor to my food? Adjusting recipes for a LEAP Diet can be challenging. My recipe for Garbanzo Bean Stew is an example of how many substitution options are available. 
I work with a wide variety of patients with inflammatory conditions. Do you have an autoimmune diseases such as Crohn's, Ulcerative Colitis, Multiple Sclerosis, Rheumatoid Arthritis, or Lupus? Do you suffer from migraine headaches or Fibromyalgia? Diet plays a major role in improving your health and inflammatory state.  One of the tools I use in my nutrition practice to reduce inflammation is Mediator Release Testing (MRT) followed by the LEAP Diet protocol to get the inflammation in your body to calm down.  Patients on the LEAP Diet temporarily follow a restricted diet consisting of simple foods that are known to be low inflammatory based on their results.
I developed a LEAP Diet friendly recipe for a hearty Garbanzo Bean Stew that you can easily adjust to tailor to your specific dietary needs.  
In this  recipe, the olive oil can be substituted for sesame, avocado, coconut, peanut or sunflower oil depending on your test results. You can replace the onion with leek or scallions and carrots or celery can easily be swapped with an allowed vegetable of similar hard texture. This could include potato, sweet potato, chopped broccoli or cauliflower. You can use softer vegetables such as eggplant, mushroom, green pepper, or zucchini, but the total cooking time would need to be reduced so that the vegetables do not become overcooked. The parsley in this Garbanzo Bean Stew can be exchanged for fresh basil or even spinach.  Spices can be adjusted depending on those allowed for you. Turmeric could be a flavorful substitution!
The garbanzo beans serve as a protein source to make this recipe a hearty, well rounded meal. However, other vegetarian LEAP Diet friendly protein sources such as pinto beans, lentils, split green peas, or lima beans could be used.  You could also substitute approximately 2 pounds of allowed meat or poultry.
Enjoy this recipe! Let me know what YOU use for substitutions!
Click here to learn more about how Melissa uses diet to treat people with inflammatory conditions.  

Garbanzo Bean Stew
Author: Melissa Karch, RDN
Prep Time: 15 minutes Cook Time: 30 minutes Total Time: 40 minutes
Yield: 8 servings
Category: Dinner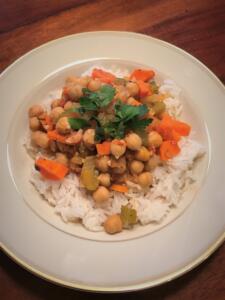 2 T olive oil
1 small onion, diced (1 1/4 cups)
3 large carrots, chopped (2 cups)
3 celery stalks, chopped (1 cup)
2 lb. fresh tomatoes or approximately 5 medium, pureed
2 tsp oregano
1 1/2 tsp paprika
3/4 tsp salt
1/2 tsp pepper
3 1/2 cups cooked garbanzo beans
4 cups water
1/2 cup fresh parsley, chopped, divided in half
1. Heat oil in a large pot or Dutch oven over medium heat. Add onion and garlic. Saute 3-4 minutes or until softened. Add carrots and celery and cook 7 more minutes.
2. Stir in tomatoes, oregano, paprika, salt and pepper.
3. Mash 1/2 cup garbanzo beans with the back of a fork to form a paste. Add mashed and whole garbanzo beans, water, and half of parsley.
4. Bring to a boil, reduce heat and simmer 15-20 minutes.
5. Stew can be served on top of your grain of preference (rice, quinoa, barley). Garnish with remaining fresh parsley.
Notes
Optional: For a mild smoky/cheesy flavor and a great vegan source of Vitamin B12, add 3 T nutritional yeast with garbanzo beans.
For those NOT on a LEAP Diet, 1 can (28 oz) of crushed tomatoes and 2 cans of garbanzo beans can be substituted.
Serving Size: 1 serving
Calories: 170
Fat: 5 g
Carbohydrates: 24 g
Fiber: 7 g
Protein: 8 g
Keywords: vegan stew, bean stew, vegan dinner, high fiber
Did you make this recipe?
Tag @nutritiondynamixrd on Instagram