Do you ever get tired of the same old salad? Sometimes you need a unique recipe to force you to switch up the standard lettuce and tomatoes. This Asparagus & Grapefruit Salad does just that!  This quick and easy combination of asparagus, citrus, and salty feta along with the crunch of pistachios will have your taste buds begging for more!
Asparagus & Grapefruit Salad
This Asparagus & Grapefruit Salad has a delicious combination of citrus, salty feta and crunchy pistachios that will have your taste buds begging for more!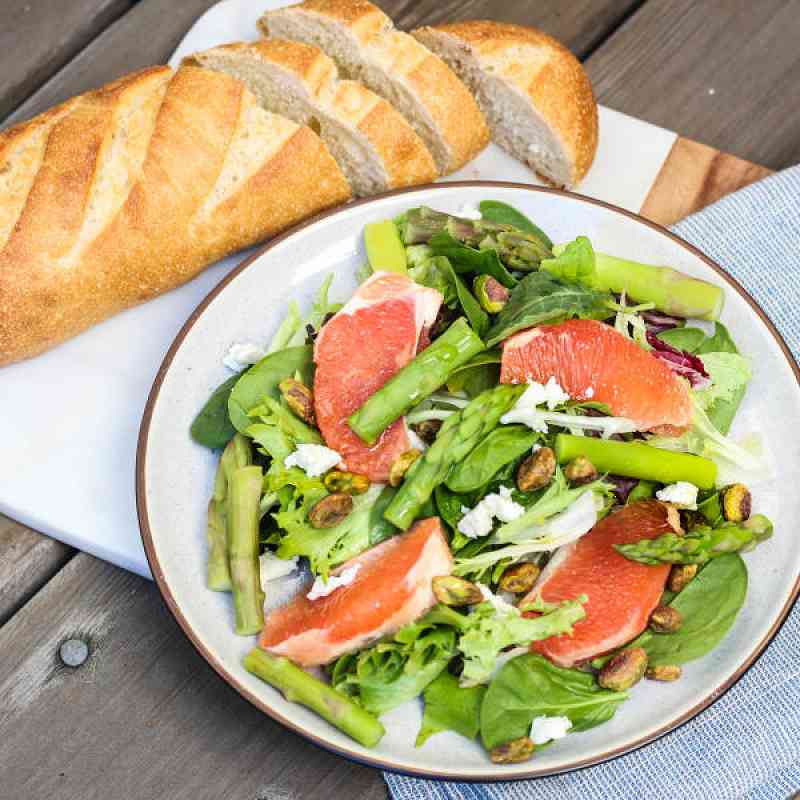 12 spears asparagus, cut into 1.5" pieces; ends removed
1⁄2 grapefruits, sectioned
1⁄8 cup pistachios, toasted
6 cups salad greens
2 ounces feta, crumbled
2 teaspoons olive oil
Blanch the asparagus in a pot of boiling water by bring water up to a boil. Carefully lower the
asparagus into the hot water and cook for 3-5 minutes. Transfer to a bowl of ice water and allow
to cool.
Meanwhile, in a bowl, toss together the grapefruit, pistachios, salad greens, and feta.
Split between plates and top with cooled asparagus and drizzle of olive oil.
Notes
Author: Ranelle Kirchner, RDN, Chef for EatLove, Yield: 2 servings 1x, Category: Salad, Diet: Vegetarian
Serving Size: 1 serving
Calories: 209
Sodium: 267 mg
Fat: 14 g
Saturated Fat: 5 g
Carbohydrates: 14 g
Fiber: 4 g
Protein: 9 g
For other delicious, healthy recipes, check out:

Like this recipe? Pin it for later!