This Chicken Coconut Korma curry recipe is a great way to incorporate turmeric, a potent anti-inflammatory spice, into your diet. Turmeric is an ingredient in the curry powder. The active ingredient in turmeric, curcumin, requires both pepper and a fat source to be best absorbed. Most curry powders contain black pepper, but feel free to add additional black pepper just to be sure.
Are you looking for a vegetarian alternative? Substitute one can of garbanzo beans in place of the chicken. Drain and rinse the beans and add in for Step 2. Saute for 1 minute. Bon appetit!

Chicken Coconut Korma
Author: Cookology, chef for EatLove
Yield: 4 servings 
Category: Dinner
Cuisine: Indian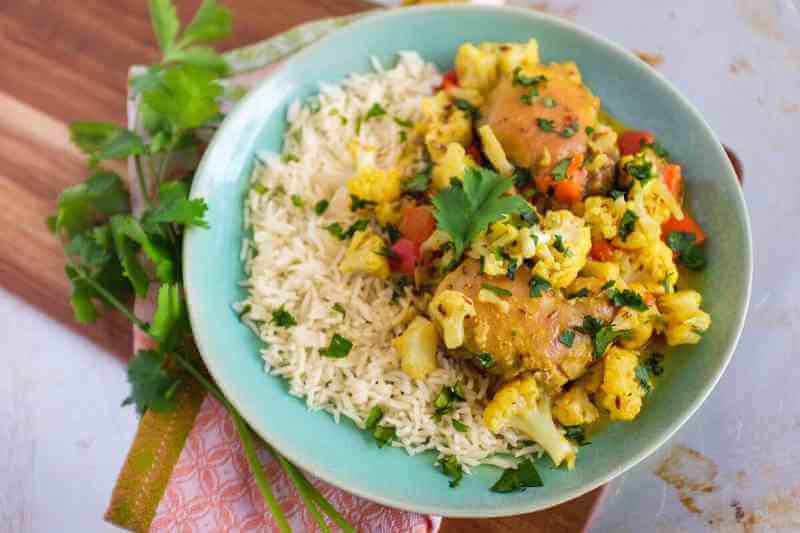 Chicken:
1 tablespoon olive oil
1 pound boneless chicken thighs
1 red pepper, chopped
1 head cauliflower, chopped
1 tablespoon curry powder
1⁄2 cup low sodium chicken broth
2 tablespoons almond flour
3 tablespoons light coconut milk
1 tablespoon cilantro chopped
Serve with:
Cook rice according to package directions.
Heat the oil in a wok or deep-sided frying pan, add the chicken and stir for 5 minutes until almost cooked.
Add the veggies, curry powder, chicken broth , almond flour and coconut milk. Simmer for 5 minutes or until the sauce has thickened.
Serve immediately with plain boiled basmati rice, garnished with the cilantro.
Notes
Serving Size: 1 serving
Calories: 419
Sodium: 168 mg
Fat: 13 g
Saturated Fat: 3 g
Carbohydrates: 46 g
Fiber: 6 g
Protein: 30 g
Keywords: healthy chicken recipe, coconut, korma, healthy dinner


Did you make this recipe?
Tag @nutritiondynamixrd on Instagram
For other healthful recipes, check out some of my favorites:

White Bean Chicken Chili
Warm Chickpea and Bulgur Salad
Like this recipe? Pin it for later!