Do you want to help keep your inflammatory levels low? These Kale Salad Stuffed Pitas are a perfect quick meal. The homemade dressing infuses this recipe with a flavorful punch that is free of additives and preservatives unlike many store bought versions.  I like to double the salad dressing and save it for other salads throughout the week!
This recipe is packed with plant based protein and fiber along with healthy fat to keep you satisfied all day! Kale is great for heart health and reducing your risk of heart disease and stroke. Kale is a natural source of Nitric Oxide (NO) which helps keep your arteries young and pliable!

Kale Salad Stuffed Pitas
Author: Eating Bird Food, Chef for EatLove
Yield: 4 servings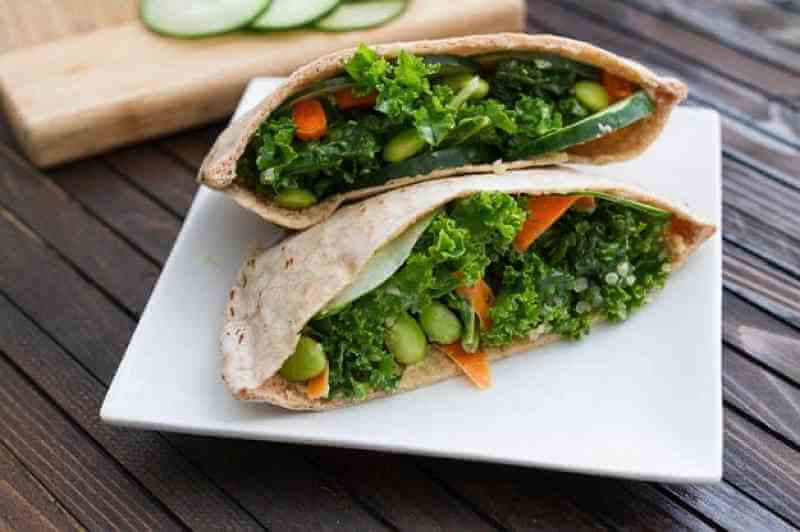 Kale Salad:
1 bunch kale, rinsed, de-stemmed, sliced
2 medium carrots, shredded
1⁄2 cup cooked quinoa
2 cups shelled cooked and cooled edamame
Dressing:
1 lemon juiced, zested
2 tablespoons maple syrup
1 tablespoon dijon mustard
1 teaspoon dried basil
1 teaspoon dried thyme
2 tablespoons olive oil
2 dashes salt, to taste
2 dashes ground pepper, to taste
Pitas:
4 pitas, halved
1 cup cucumber, sliced
1⁄4 cup hummus
Toss together kale salad ingredients in a large bowl.
Whisk together dressing ingredients in a small bowl.
Pour dressing over kale salad mixture and stir well to combine or use your hands to massage the dressing into the kale.
To make the pitas: Spread a little hummus inside each pita half, stuff with kale salad and cucumber slices, and serve.
Notes
Serving Size: 1 serving
Calories: 475
Sodium: 512 mg
Fat: 16 g
Saturated Fat: 2 g
Carbohydrates: 69 g
Fiber: 15 g
Protein: 22 g
Keywords: vegan pita, pita sandwich, vegan lunch ideas


Did you make this recipe?
Tag @nutritiondynamixrd on Instagram
For other healthy recipes, check out:
Warm Chickpea and Bulgur Salad
Spicy Baked Tofu & Veggies with Quinoa
Like this recipe? Pin it for later!