This simple Smashed Avocado Hummus Sandwich is staple at my house! I keep premade hummus and avocados on hand at all times for easy meals and snacks. Avocados provide monounsaturated fat which helps support your heart health. This healthy fat is also perfect to help you stay satisfied for hours. Enjoy!

Smashed Avocado Hummus Sandwich
This simple Smashed Avocado Hummus Sandwich is a staple at my house! Filled with healthy fats, it's sure to keep you satisfied for hours.
Author: Sincerely, Katerina, Chef for EatLove
Yield: 3 servings 
Diet: Vegan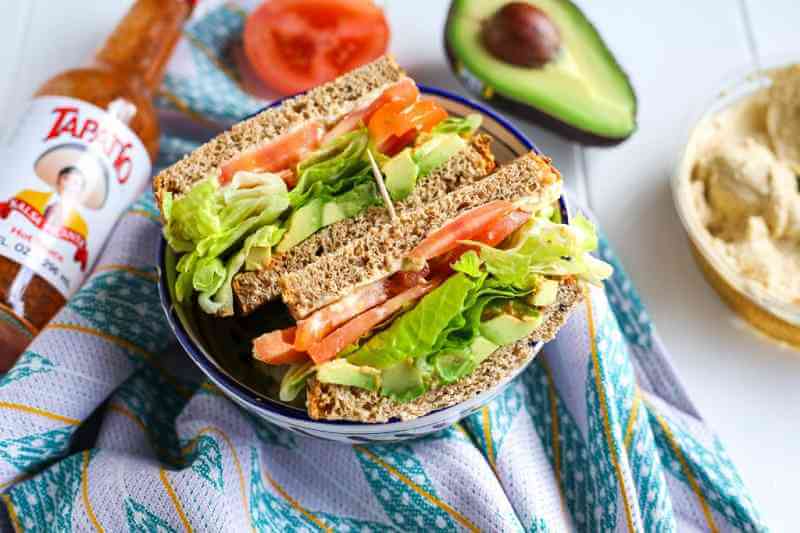 6 slices whole wheat bread
1 1⁄2 avocados
5⁄8 cup hummus
12 slices tomato
3 handfuls cilantro chopped
6 leaves lettuce
3 dashes hot sauce (optional)
Grab your bread and lather one side with hummus. Slice up an avocado and put it on the other side.
Add a few splashes of hot sauce onto the side with the avocado.
Next, add thick tomato slices to the hummus, and lettuce & cilantro to the side with the avocado.
Lastly, pop the two sides of the bread together and your sandwich is ready to eat!
Notes
Serving Size: 1 serving
Calories: 426
Sodium: 523 mg
Fat: 19 g
Saturated Fat: 3 g
Carbohydrates: 52 g
Fiber: 15 g
Protein: 17 g


Did you make this recipe?
Tag @nutritiondynamixrd on Instagram
For more vegetarian recipes, check out:
Like this recipe? Pin it for later!