This Warm Chickpea and Bulgur Salad is a staple at my house. It is a quick and easy meal that stores well for leftovers. It is also very versatile. Substitute the almonds for your favorite nut (walnuts, pistachios, cashews) and the raisins for any dried fruit in your pantry (dried apricots or cranberries). Don't have radicchio? You can use spinach, lettuce, or Spring Mix in it's place.
This is a healthy plant based salad that gives a whopping 16 grams of fiber per serving. Bon Appetit!
 

Warm Chickpea and Bulgur Salad
Author: Ranelle Kirchner, RDN, Chef for EatLove
Yield: 6 servings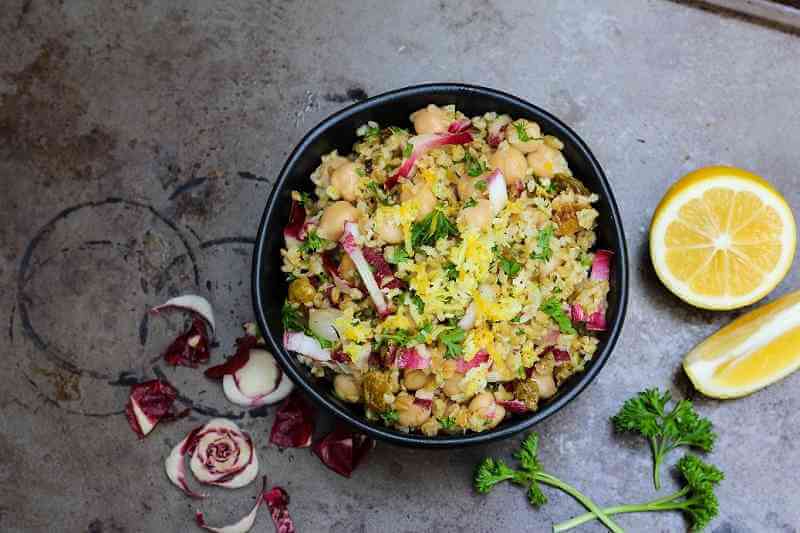 Salad
1 1⁄2 cups bulgur wheat
3⁄4 cup sliced almonds
4 1⁄2 cups chickpeas, drained & rinsed
3⁄8 cup golden raisins
3⁄4 cup parsley, chopped
6 cups radicchio, shredded
Dressing
3⁄8 cup olive oil
3 lemon, zested and juiced
Add bulgur and water to a pot over medium-high heat. Bring to a boil, cover and lower to a simmer for 12 to 15 minutes or until tender. Drain off excess liquid. Set aside to cool.
Meanwhile, prep the remaining salad ingredients and toss into a large bowl.
In a different small bowl, whisk the olive oil, lemon juice, and lemon zest together to make the dressing.
Drizzle dressing over salad and mix well to combine.
Notes
Serving Size: 1 serving
Calories: 537
Sodium: 340 mg
Fat: 24 g
Saturated Fat: 3 g
Carbohydrates: 71 g
Fiber: 16 g
Protein: 18 g
Did you make this recipe?
Tag @nutritiondynamixrd on Instagram
For other healthful recipes, check out some of my favorites:
Spicy Baked Tofu & Veggies with Quinoa
Hearty Butternut Squash Barley Soup
Like this recipe? Pin it for later!